By Paris for iNet-Dynamics
A History of Success
First introduced to the world in the 1980s, Dynamics GP (formerly Great Plains) was one of the first accounting packages in the USA that was designed and written to be multi-user. The software soon became the number one ERP solutions in 1990s for its inclusive modules of financial, inventory, sales order processing, purchasing and much more.
In the year 2000, Great Plains was acquired by Microsoft and became Dynamics GP – the first ERP solution to be offered by this tech empire.
After more than three decades in the market, Dynamics GP is serving more than 47,000 customers worldwide and counting.
Continuously Evolving
Like many other software (or Hollywood Superstars), this long-lasting market leader is sometimes "rumoured" to be "dead" -with no further development plan from its parents Microsoft.
However, the myth was solved earlier this year when Microsoft released the new Dynamics GP roadmap which states a continuous progression of the systems through 2019, similar to its brothers and sisters in the same family. With this, it is obvious that Microsoft will continues to invest in Dynamics GP to ensure it remains relevant and up to date.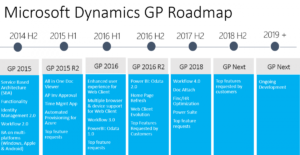 Microsoft Dynamics GP 2018
The new version of GP will contain more workflow updates, Workflow 4.0, with further document management enhancements, financial functions optimization, and GP's version of Power Suite.
Regarding the enhancement of Doc Attach, the changes are aimed at supporting added processes and workflows like AP invoice approval. Doc Attach of GP 2018 is more comprehensive with added support for Receivables and GL entry, Employee inquiry, for notes on Vendor and Customer enquiries.
As for Power Suite, there will be a Power BI Content Pack and Flow templates to round out the evolution into Microsoft's new generation of app and integration tools.
Further details of the new GP 2018 are being kept from release until the later part of the year. What we know so far are inclusive of integration improvements for add-on applications, and additional business intelligence features.
While waiting for updates, if you want to learn more about how Dynamics GP can enhance your business, talk to us today contact us.