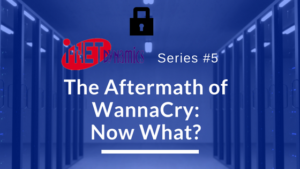 For i-Net Dynamics by Paris
Patch Management and Cyber Security
It is difficult to overcome the pain of being hit by Ransomware – WannaCry, knowing that there was a way to avoid the whole incident altogether. The breach occurred because of a convenient exploitation of a Windows OS vulnerability by the cyber robber, which was updated by Microsoft two months ago. However, out of this tragic event that affected hundred thousands of devices all over the world, it did one good thing – increase the awareness of Patch Management.
There are many reasons why companies find it challenging to keep operating systems and applications up to date with one of it being time consuming. For more traditional companies, the IT person usually attends to each of the company's many devices to carry out patching. More sizable companies usually have a bigger IT department, but with a large company, their roles and responsibilities multiply as well.  Considering all the tasks included in the job role of a IT Security personnel, patch management is probably not a priority in their daily operations.
Knowing the public's challenge in keeping software current, IT companies have long been releasing patching tools to assist clients in completing this crucial business process. Having being awarded a 5-star rating in The Channel Company's CRN seven years in a row, SolarWinds N-central provides a comprehensive and flexible patching tool that is suitable for all organizations.
A Powerful Patching Tool 
N-central is a monitoring software that enables a preventative as well as proactive approach to IT Managed Services and one of the many features of N-central is the Patch Manager.
N-Central's Patch Manager is designed to provide full control and access when updating multiple (a few thousands) of endpoints and servers. The tool allows companies to preschedule patch deployments, which assists to reduce interruptions to employees. For example, a new OS update could be scheduled to be first installed for finance department and followed by marketing department to prevent business disruptions. By using this Patch Manager, companies can proactively keep their systems network secured and healthy, regardless of the number of IT devices. 
"Patch Manager can patch all of the devices with the press of a single button" – N-central
I-Net Dynamics has been a trusted partner of N-central for several years now, ever since we discovered how powerful the N- Central's Patch Manager tool can be in running an efficient IT environment. By bundling N-central's smart features with our top-notch IT managed services, we have entered a new age of Patch Management:
Automated system patching to automate the process for certain class of patches for selected groups of servers, workstation and network devices
Advanced Scheduling of patching to minimize downtime
Third-party support patches deployment inclusive of third-party applications
Reporting to keep companies up to date of multiple patch status
24/7 monitoring to ensure all the critical patching are successful
Unlimited remote and onsite support from our team of friendly experienced professionals
While N-central provides a powerful patching tool, it is but a small portion of a complete monitoring solutions that can assists in increasing your business productivity. To understand more about this award winning software and how it can benefit your organization, please contact us here.
To understand more about other I-Net Dynamics services that can support you in Cyber Security, please download our brochure here.
Read our previous blog here to find out how you can take a stance against ransom-ware.
All Photo Credits to SolarWinds