With the bulk of businesses moving towards automation, many businesses are now sourcing for suitable software to integrate into their business. However, searching and identifying the most suitable software for your company is one of the biggest obstacle in this journey. So read on and find out what is the difference between ERP Systems and Accounting Software and which is more suitable for your organisation today!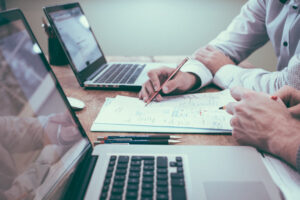 The difference between an ERP System and an Accounting Software
To many people, the two terms ERP (Enterprise Resource Planning) and Accounting Software mean one and the same. While they both serve the common purpose of automating time-consuming tasks their functions differ. This misconception has often led to many hiccups in purchasing decisions, as the company might be looking at the wrong category of products or comparing two different products.
Knowing these differences will help companies to make the right decision in choosing a process streamline system and prevent you from wasting precious monetary and manpower resource in implementing the wrong system.
ERP software
As a fully integrated system, the ERP software combines data from various business processes into a comprehensive information centre. The main objective is to streamline the day-to-day management of business operations. By processing the information of all the integrated functions, an ERP software can forecast budget, sales, and stocks; recognize potential process deficiencies and identify possible strategic improvement. For example, warehouse inventory information which is stored in ERP software can be accessed by sales team and once the deal is closed, the stock can be updated in real-time.
Moreover, ERP softwares allow multilevel of integration to other systems such as POS, club systems, hotel systems and other operational application software.
An ERP system is inclusive of but not limited to Financial Management, CRM, Intelligent Business Reporting, Purchasing, Inventory Control, Project Management, Supply Chain Management, HR and Payroll.
Accounting Software
In short, an Accounting Software can be seen as a subset of any ERP system, or the financial module of an ERP.
Different from the ERP software, Accounting Software incorporates functions specific to accounting and focuses on handling accounting transactions such as accounts receivable, accounts payable, and trial balances. Usually an Accounting Software in inclusive of financial management related modules – billing, sales order, purchase order, general ledger, and expense.
With the bundled modules and functions, Accounting Software provides a good snapshot of a company's financial performance. However, it's lacks of the ability to anticipate the future.
Which system is suitable for your company?
As the market trend is driving businesses into having a more comprehensive information solution, ERP systems are having the advantages to consume a larger portion of organizations.  Having said that, Accounting Software still holds its strengths for companies that are looking for a purely financial focus system.
However, an ERP system is a clear choice if you need a system to handle more than accounting transactions. It is essential to understanding the differences in software functionality and how it is applicable to your environment and requirement before deciding which category of application software to go for.
If you're currently investigating software options for your enterprise, contact us to enjoy a free consultation session. Our experienced consultants at i-Net Dynamics will listen to understand your needs and share with you the benefits of our comprehensive ERP system.