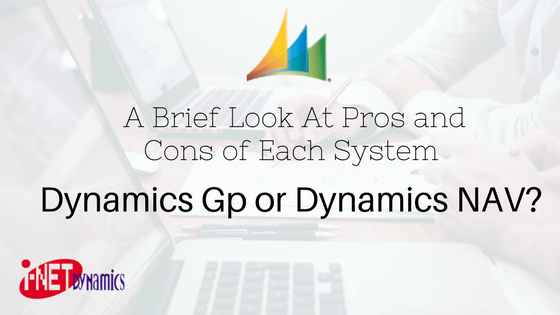 Difference between Dynamics GP and Dynamics NAV
Microsoft Dynamics GP and Microsoft Dynamics NAV are both comprehensive ERP solutions under the Microsoft Dynamics family. Both systems sport a familiar, intuitive user interface and functionalities that fulfill companies' requirement on enabling business process. However, there are distinctive differences that set aside the two ERP systems and help decision makers to choose which solution is the best fit for your organization.
In short, Dynamics GP is an out-of-the-box system, which is faster to implement and makes upgrade simpler while Dynamics NAV is completely customizable, which fits best when there are needs to build specific functionalities.
Dynamics GP
In the year 2000, Great Plains was acquired by Microsoft and then became Dynamics GP, the first ERP solution being offered by the American multinational technology company. The system offers an out-of-the-box solution for small to medium-sized businesses that allows an ease of implementation. While it can be catered for a wide range of industry, it is most suitable for companies with financial accounting requirement that can be fulfilled with entry-level accounting systems. GP's functionalities are fully developed and a standard implementation (no system customization) can meet with almost all the requirement. In addition, specialized or vertical third party application can be easily and seamlessly integrated with Dynamics GP.
Dynamics NAV
Previously known as Navision, NAV was acquired by Microsoft a few years after GP. Unlike GP, NAV does not have the core module fully developed but the system has the ability to be completely customized according to business' specific structure and needs. It is therefore, aimed at businesses in the manufacturing or distribution market with niche uses that require higher level of customization. This makes NAV ideal for niche businesses whose requirements change so quickly that no other off-the-shelf package can support. With source code available for developers, the system allows certified partner to improve additional functionalities within the software.
Despite the differences, Dynamics GP and NAV are being developed with similar road map with each other to continue delivering automation to businesses. The two ERP system are also both flexible with regards of deployment as they are available on servers in a traditional on-premises environment, hosted by a partner, leased and deployed in a private cloud, or via Microsoft Azure.
To learn which system is more suitable and to know how much it would cost your organization, contact us today!
I-Net Dynamics is a premier vendor of Microsoft Dynamics GP ERP Systems in Singapore with over a decade of experience in consulting, implementing and assisting over 250 customers in the APAC Region achieve business excellence.