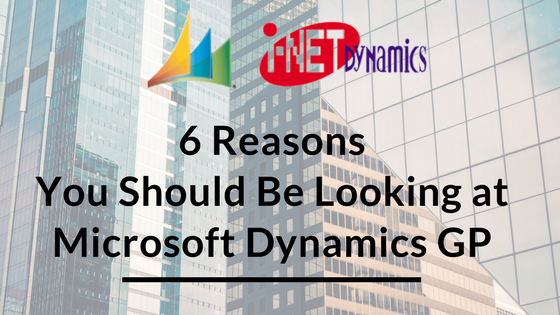 What is Enterprise Resource Planning (ERP Software/ ERP System)? 
ERP, or Enterprise Resource Planning system refers to an integrated solution between the core processes of a business, including inventory and order management, accounting, human resources, customer relationship management (CRM), and beyond.
Why should you look at Microsoft Dynamics GP?
Microsoft Dynamics GP is one of the top ERP system that helps to streamline processes and information across the entire organization. It provides a single integrated software environment to help automate the business, increase sales, enhance collaboration, improve efficiency, and enable better business decision making.
Here are why Microsoft's Dynamics GP is the ERP software, or financial accounting system that you should be considering:
Strong customer base: Microsoft's Financial Accounting system is serving 47,000+ customers with more than 150,000 users and still growing.
Out-of-the-box system: with a standard implementation, Microsoft Dynamics GP meets with 84% of business' requirement.
High reporting capability: The Microsoft ERP system has multiple reporting tools with more than 700 standard report available.
Seamlessly integrated: Microsoft Dynamics GP is built on the strength of Microsoft's popular productivity tools and can be integrated with Microsoft Office and many other system software, such as CRM, HR Management, and Warehouse Management.
Flexible deployment options: The software is available as a licensed on-premise system with a cloud-hosted version. Companies can also purchase it via a Microsoft Perpetual Licensing or through SaaS subscription.
Full suite of business modules: The financial accounting system is inclusive but not limited to Financial Management, Supply Chain, Reporting, and Business Intelligence.
Voted as top 5 accounting software for enterprise, Microsoft Dynamics GP has the stability and scalability needed to support your business needs today and grow together with it in the future.
i-Net Dynamics is a certified silver partner of Microsoft in ERP system. We have been implementing the accounting software and supporting clients in Singapore as well as the region for more than 20 years.
For more information about Dynamics GP please click here.
For more information about i-Net Dynamics and our other IT offerings, please click here.